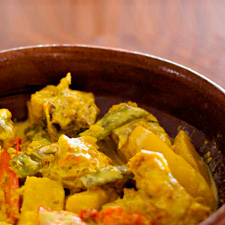 The island of Ibiza not only has some of the best beaches of the Mediterranean, it is also possible to enjoy high quality gastronomy, combined with sun and the tranquility of a few days off, holidays in Ibiza become the most desired time of the year.
Of all the restaurants that the island offers we distinguish these 3 for their Mediterranean personality, its great atmosphere and its gastronomy based on local ingredients:
A few minutes from the Hotel Ca n'Arabi and very close from the discoteque Pacha you can find the Restaurant Sa Nansa, specialized in local cuisine, where you will be able to taste the famous homemade boiled fish, as well as delicious paellas and seafood
 Address: Avda. 8 de Agosto, Ibiza. Reservations: 971 31 87 50
Another very recommended restaurant is Tropicana Ibiza Beach Club, a sophisticated and tranquil restaurant located in the Cala Jondal Beach, it's the perfect excuse to spend a day in the beach and taste good cuisine. It is also close to the Hotel Ca n'Arabi, so it is an obligated visit. Also rents private boats, hammocks and massage services. And if you go on Sunday nights…Caribbean party! Open from the end of March or beginning of April until the end of October.
 Address: Cala Jondal Beach. Sant Josep de Sa Talaia. Table reservation: +34 971 18 75 20; Hammocks reservation: +34 629 34 80 12
A Little furthur off from the hotel, near Sant Antoni you can find the third restaurant we recommend: Sa Capella, an elegant restaurant with a romantic and unique atmosphere since it is located inside a reformed church. You will be able to taste their delicious local food with an exquisite attention. Open from mid April until the end of October.
 Address: Ctra Sant Agnes, km 1,2, San Antonio. Reservations: +34 971 34 00 57