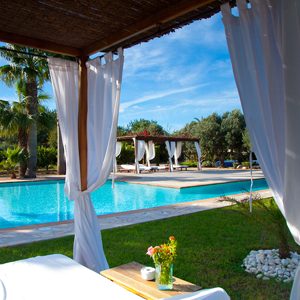 Ibiza is one of the most idyllic Mediterranean enclaves. A place in which to enjoy a vibrating experience as well as the most absolute tranquility. If what you prefer is a country break from the daily stress and be in touch with nature, Ibiza is one of the best options during the spring and summer months.
Taste good food, rest, breathe fresh air and enjoy nature. These four factors are the reason why people decide to travel to the island of Ibiza, as it is a place where you can relax, do exercise, introspection and rural tourism.
There are many picturesque villages on the island to eat and shop, you can choose to buy and cook food that has been harvested in the area. This kind of cooking is very common among rural tourism, where the restoration is mainly based on products from nearby farms and organic farming.
Some of the most recognized agrotourism hotels in Ibiza were old farmhouses and dairies that have been renovated and converted into luxury hotels, but have tried to respect the original structure. Some examples of this type of hotels focused on rural tourism are the Hotel Ca n'Arabi and Hotel Can Jaume.
And there is nothing better than to combine good meals and rest with activities like hiking or trekking. There are many routes to get to know a different Ibiza through majestic roads which run from forests inhabited by wild rabbits and hawks until the most crystalline lost coves.
If you like rural tourism, Ibiza combines gastronomy, tranquility, landscape and comfort, making it one the best places to get lost and relax.