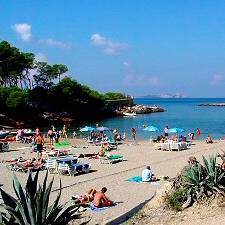 Within just 2 km north of San Antoni, there is one of the spots most admired by the lovers of the beaches in Ibiza. Cala Gracio stands out for its soft white-sand and crystal clear waters that invite you to take a dip.
The beach is ideal for both adults and children because of its easy access, its calm and shallow waters will delight the little ones that can play on the shore with all tranquility.
Pero si hay algo que la mayoría de los visitantes valoran de este pequeño paraíso es el respeto a las vistas y al paisaje de este rincón, que por más que esté muy cerca de Sant Antoni ha sabido conjugar la naturaleza con la actividad urbana. Los hoteles de la zona están escondidos y no tienen vistas a la playa, de tal forma que los usuarios se sienten aislados, con privacidad, en su pequeña burbuja llamada Cala Gració.
But if there is something that most visitors value about this small paradise is the respect for the views and landscapes, even being located very close to Sant Antoni it has succeeded in combining nature with urban activity. The hotels in the area are hidden and have no views of the beach, so that users feel isolated, with privacy, in their little world called Cala Gracio.
To reach this beach from Ca n'Arabi, there is less than a half an hour drive from road C-731. From Sant Antoni you can walk or drive. If you're going by car it is well indicated and you can get there in 5 minutes.
And if once you're in the beach you want to go for a walk, we recommend a short walk to the beautiful Cala Gracioneta, which can be reached by following the coast on the right side of the beach. This small cove is another valued treasure of the area, where you can enjoy even more privacy as fewer people arrive. They have the famous restaurant El Chiringuito.