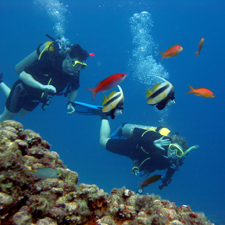 If we had to outstand something of Ibiza to act as ambassador of the island it would be, without doubt, the beaches and the crystalline waters. The turquoise color has given these beaches their international reputation.
There is absolutely no tourist that does not want to enjoy a swim in these idyllic coves when they arrive at the island. But it is important to know that you also have the opportunity to practice diving and discover the wealth of Ibiza's seabed or ocean floor.
Diving is one of the activities that are recommended to anyone who is visiting the island for the first time because this way you can see one of the charms that it has. Seeing the plants and animals wealth has become the target for those who dare to adventure into the deep sea.
However, we must not forget that they will also have the opportunity to learn scuba diving and see the ship of Don Pedro that sank in the year 2007 at the coast near to the port of Ibiza. Admire the beauty of this boat has become another of the most significant attractions of the island and one of the most unique in Europe.
If you're traveling soon to the Balearic Islands and you are sure you want to practice diving you should know that you can do it with one of the many specialized centers that exists:
Arenal Diving Center
Located in the town of San Antonio is where you will find this establishment that offers all kinds of diving courses through the coast of Ibiza.
Aqua Diving Center
Located in Santa Eulalia port you will find this establishment, you can have diving courses as well as have the opportunity to see the boat Don Pedro.