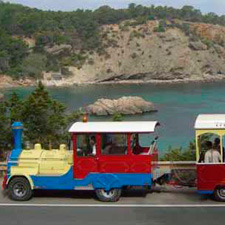 One of the funniest activities you can do during your holiday at Ibiza is to take a trip on the tourist train of Santa Eulalia. Young and old will enjoy the tour allowing you to see some of the places of local interest.
The train departs at 10:30AM willing to make you discover Ibiza's beauty. Therefore, it will go through places such as:
Cala de Pescadores de Pou des Lleó
This enigmatic and magical cove is surrounded by a beautiful landscape of pine forests.
Bahía de Cala Boixx
One of the best places in the area to enjoy a nice swim in crystal clear water and surrounded by a stunning enclave.
Cala Mastella
The rocky cliffs that surround this small cove have given it the distinguishing mark that tourists enjoy very much.
Playa de Cala Leña
one of the best beaches of the island. If what you want is to enjoy a relaxing and calm day with your children at the great quality of its clear waters.
San Carlos
It's a town with a clear hippy essence that has an interesting architectural heritage and native quality products.
Museo Etnológico de Finca Es Trui
Cala Nova
The most important beaches of Santa Eulalia is equipped with all the necessary services to enjoy a day of sun and sea.
Es Caná
A moon shaped beach. Restaurants, bars and a small harbor are the highlights of this place.
If you go on a trip with the tourist train from Santa Eulalia you can discover places of great local interest and beauty. Do not miss this opportunity.