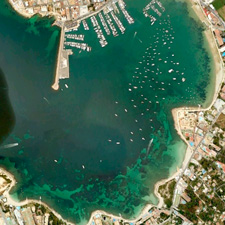 The Puerto de San Antoni de Portmany, called Portus Magnus by the Romans, is a large natural harbor facing the Iberian Peninsula in the west coast of the island of Ibiza. Its privileged position gives it the best sunset on the island, making it one of the most attractive locations of the island of Ibiza.
The recreational boating has had a sharp increase in the Puerto de Sant Antoni for being a great meeting place for tourists and visitors for their wonderful sunset and the famous Café del Mar, one of the most visited ports of the Balearic archipelago. In fact, it is the second largest port of the Balearic Islands and includes fishing activities as well as recreational and commercial activities.
It is located in the seafront of San Antoni, it is a harbor protected from strong winds thanks to the Conejera Island. In addition, the port is well protected by a long breakwater of 400 meters.
During summer months and until October there are handcraft markets as well as typical Ibiza fashion markets where tourists can shop with the pleasant breeze from the west coast of Ibiza. Next to the port you can also find the Club Nautico de Sant Antoni, with accessible and modern facilities with large amount of moorings.
From the Puerto de San Antoni you can catch the ferry with destination both to Denia and Valencia with services operated by Balearia & Trasmediterranea. Ferries operate up to 4 times daily and take about 2 hours and 30 minutes.