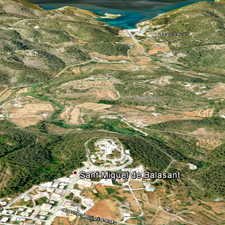 The town of San Miguel is the gateway to the northern part of Ibiza, the most natural and abrupt coastline. The village has a church which was built between the fourteenth and eighteenth century, an ancient fortress and an interesting place for tourists to visit. Also in the church and during summer season you can see typical folk dances of the island the «ball pages» practiced by local groups of San Miguel.
The village is ideal to buy local products like pottery and fresh foods such as honey. Also you can find watercolors, wicker baskets and all kinds of handmade objects. Each Thursday in summer you can visit the handcraft market in the town's Main Square.
Just 5 km from San Miguel is the Puerto de San Miguel, a beautiful destination in the middle of nature and away from the tourist bustle of the rest of the island. From the Puerto de San Miguel you can access other beaches that are worth a visit like Cala Benirràs just 2 km, the Cala Xarraca at 5km and Cala Xuclar at 6 km. If you are on your way to Benirràs to enjoy its famous sunsets, before you can visit the Cueva de Can Marça former hiding place for smugglers and a curious place to see.
In terms of gastronomy San Miguel has its own bars and restaurants. Es Bosc is a restaurant with a garden that serves tapas, meat and fish. Ca'n Rei is a quality restaurant but more traditional. Puerto de San Miguel has one of the most famous fish restaurants on the island, the Port Balansat.
San Miguel is located 20 minutes away by car from Ca n'Arabí, on the road PM-804