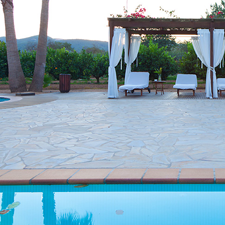 San Antoni de Portmany is the second largest town in Ibiza and one of the most famous destinations for the wide variety of services it offers and its famous sunsets at the Cafe del Mar. it is an ideal place for any kind of tourists as it offers various types of entertainment and accommodation just 20 minutes from Hotel Ca n'Arabi and Ibiza.
Couples and lovers of tranquility are encouraged to visit Sant Antoni in the beginning or end of the season so they can enjoy a peaceful walk along the promenade and the beautiful bay. In July, August and early September, the town offers more nightlife, ideal for teenagers and young people from all places. The language spoken is usually English.
The best clubs to enjoy sunsets in Sant Antoni are Cafe del Mar, El Mambo or Savannah. If you are a lover of the night, you can choose amongst a large number of clubs such as Eden and Es Paradis. And for those who prefer to go out in a more quiet and relaxed way, there are plenty of bars where you can have a drink. These bars are concentrated in the four streets near the harbor and the promenade of Ses Fonts. When leaving the main center of Sant Antoni, the rest becomes a quiet and familiar place.
In the inner streets of the village you can find plenty of stalls where you can buy traditional Ibizan colthes and other specific products of the island as hand embroidered fabrics, leather things, pottery or jewelry. Also you can find gourmet products such as cheeses, traditional sausage of the island, spirits and wines.
Sant Antoni also has plenty of beaches a few miles away. Cala Salada is about 5km from the center of the village and those who get to this beach can enjoy a great family atmosphere in an area of fine sand and protected from all the winds. A little more than 2 km from Sant Antoni you can get to Cala Gracio and Cala Gracioneta, two beautiful coves connected by a short rocky walk.
Calo des Moro, one kilometer from the center of Sant Antoni is a popular place known to see the beautiful sunset, it has many bars and restaurants.