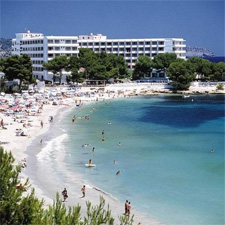 Santa Eulàlia is the third population with the greatest number of inhabitants of the island of Ibiza, a picturesque and quiet village only 20 minutes from Ca n'Arabi and the airport. Away from the party atmosphere of Sant Antoni and Ibiza, in Santa Eulalia there are usually families and tourists looking for quiet and peace, a profile of vacationer somewhat more select.
The town has a beautiful promenade planted with trees and small gardens on the shores of the beach which in turn is surrounded by hotels, apartments and restaurants. The leisure offered is very wide and stands out for having numerous art galleries. It is also said to have the best food in the whole island.
Also important to outstand the high level of the marina where you can catch ferries to different beaches of the area, Ibiza and even Formentera. Stroll through the unique shops is another perfect excuse to visit Santa Eulalia and enjoy a more relaxed leisure.
But to get lost among the local people, the best is walking down the street San Jaime. During the day it is the best place to visit and see local people chat and have coffee on the terraces. Parallel to San Jaime Street is San Vicente Street. A picturesque place where you have long chats in terraces, there is a traffic limit in the afternoon and the streets are only pedestrian. Beyond San Jaime Street you can usually find handcraft street stalls and also comic artists and portrait painters.
The environment of Santa Eulalia is also a required visit. The church of Nuestra Señora de Jesus from the sixteenth century crowns the top of the mountain Monte de la Misa illuminated at night with decorative lights. To get there you will have to cross some bridges, the last bridge is of Roman origin. The view from the church Nuestra Señora de la Misa is worth seeing as it has a panoramic view of the town of Santa Eulalia and of the beautiful bay of Cala Llonga.