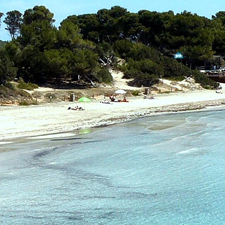 The "Playa de las Salinas" is located about 10 minutes from the town of Ibiza and about 20 minutes from our hotel. This beach receives its name from the salt mines in the south of Ibiza, and its main characteristic is its form, a long sandy curve surrounded by pine trees and dunes.
The beach offers many services as hammocks, sun umbrellas, showers and a lifeguard. Also, the surrounding area, there are a wide variety of restaurants and shops. Like most beaches in Ibiza, "Playa de las Salinas" offers crystal clear waters that with the wind create a very special feeling, giving you a tranquility that you can really enjoy with total comfort.
But it is during summer time that this beach becomes the center of the exclusive life of Ibiza, it is the preferred place for famous people around the world and lovers of the nightlife. During the month of August in the "Playa de Las Salinas", the exclusive bars play music all day cheering the atmosphere to the people that rest from the nightlife and want to recover energies enjoying the beach. Cocktails are also served in the hammocks.
Among the places we recommend as an activity of interest to all our customers is to visit the "Torre Vigía". You just have to walk a bit from the beach and during the short journey you will be able to discover the coves located along the rocky coast. You may be able to find a beach only for you.
All the beaches located near our hotel are remarkable in different ways and its proximity makes it really comfortable to visit and enjoy them with their unique characteristics, as each beach has its own personality. Definitely something you cannot miss out on.