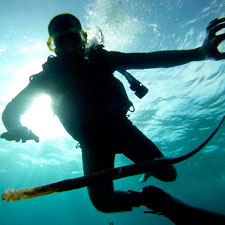 The main attraction of the Island of Ibiza is all the beaches. The fact is that at each beach, with golden sand and crystal clear waters, you can enjoy not only the good weather but also a wide range of water activities.
If you're planning on visiting this corner of the Balearic Islands we suggest some proposals that you can do to have fun and enjoy your holidays:
Diving. One of the most spectacular ocean floors in the world is the one in Ibiza. That's why every year thousands of tourists come to the island ready to go diving and discover the wealth that exists beneath the waters. You will also have the opportunity to see the Ferry Don Pedro, which sank in the year 2007.
Windsurfing. The winds from some of the beaches such as Pinet o d'en Bossa make it an ideal vacation destiny for practicing this water sport during summer time.
Catamaran ride. While cruising on a catamaran you will be able to enjoy the natural surroundings of Ibiza as well as the water of the ocean. There are several companies that currently offer this service. In our hotel you can request all the necessary information.
Surfing. The most adventurous and passionate water sports athletes can also enjoy surfing. In this case, the preferred time is usually fall since it is when the most favorable waves take place.
Jet skis. Those who love speed and water have no better option than renting a jet ski to ride through the waters of Ibiza, just like many celebrities do.